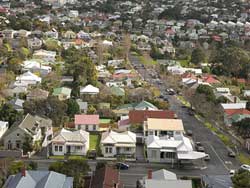 Trend: house prices up 3.99% y-o-y in Q2
New Zealand's housing market is slowing sharply, mainly due to the introduction of new lending restrictions in October last year and worsening affordability.
Median house prices rose by 3.99% (inflation-adjusted) during the year to Q2 2017, a sharp slowdown from y-o-y growth of 10.43% the previous year. House prices fell 2.49% q-o-q during Q2 2017.
Analysis: dramatic slowdown.
Dwelling sales in New Zealand were down 24.5% y-o-y in July 2017, according to the Real Estate Institute of New Zealand (REINZ). All regions saw falling demand. 'Days to sale' rose by 4 days to 35 days y-o-y in July 2017.
The sharp decline in house sales this year in New Zealand indicates that restrictions imposed by the government are finally doing their job - but are slowing the market too successfully.
Rents, rental yields: quite low yields at 3.73%
Apartment costs in Auckland are around $7.082 per sq. m.
New Zealand: city centre apartment, buying price, monthly rent (120 sq.m.)
Buying price
Rent per month
Yield
Auckland
$849,840
n.a.
3.73%
Recent news: New Zealand's economy is expected to expand by 3.2% this year and by another 3.7% in 2018, according to the New Zealand Treasury. The Reserve Bank of New Zealand (RBNZ) left the official cash rate (OCR) unchanged at a record low of 1.75% in August 2017, amidst growing signs of a housing market slowdown.