King Abdullah Economic City (KAEC), a new metropolitan area rising along the coast of the Red Sea, will be the first place in Saudi Arabia to allow foreigners to own property.
The Economic Cities Act issued earlier this year makes it possible for foreign nationals and companies to buy property in one of four Economic Cities currently being built in the kingdom.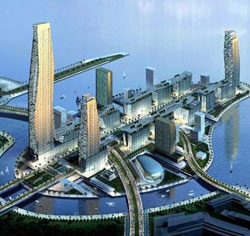 KAEC (pronounced "cake") is under construction 100 kilometres north of Jeddah. At 168 square kilometres in size, it is slightly larger than Brussels. It is expected to accommodate 2 million people and generate 1 million jobs.
KAEC is set to be completed in 2025, but several businesses and some 40 families have already moved there.