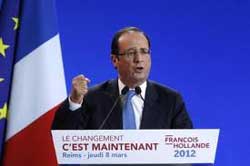 French president Francois Hollande has put forward proposals to increase the level of tax paid by foreigners with second homes in the country.

At present, a duty of 20 per cent is levied on any rental income, while the capital gains tax (CGT) on sales is charged at 19 per cent.

If Mr Hollande's plans go ahead, this will increase significantly, with 35.5 per cent being collected on rental income - which will be applied retrospectively to January 1st 2012 - while the CGT will climb to 34.5 per cent from the end of July.

Speaking to the Telegraph, Graeme Perry, a partner at Sykes Anderson, stated the new tax regime could damage the French property market by encouraging Brits and other overseas buyers to look elsewhere for a real estate investment.

Earlier this year, there were indications of how a change in CGT tax can affect the French property sector, with owners rushing to dispose of their assets before February 1st when the new higher rate came into force.

A report released by property firm Lonres last month revealed the level of activity in the Parisian real estate sector has fallen since February and is stagnant, apart from at the prime end of the market.