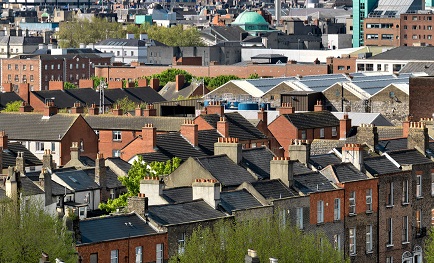 Ireland witnessed a whopping 110% increase in the number of homes built in October compared with the same month last year, but the rise has failed to bring any relief to home buyers. Demand continues to outpace supply, according to an analysis by stockbroker Goodbody.
Overall homebuilding activity has been sharply up throughout this year with almost 82% increase, with 13,533 homes built during the year to September. The experts say that Ireland needs to build at least 30,000 homes a year to meet buyer demand.
Semidetached and detached homes were the most common types of properties built this year, totaling 4,481. Compared to this, 1,124 apartments were built, although the majority of those, some 94%, were completed in Dublin.
"A substantial increase in apartment construction will be required, particularly in urban locations and close to transport networks to resolve Ireland's housing shortage," Goodbody's chief economist Dermot O'Leary said.
"This is currently being hampered by high costs of apartment delivery and planning restrictions on densities and heights. It is expected that new regulations on this issue would be published prior to Christmas, but there have been no further updates from the Department of Housing yet," he added.