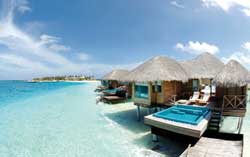 The federal laws in the island nation of Maldives were rather restrictive and rigid. But with the change in government President Mohamed Nasheed has been trying to introduce innovative measures that will open up the small country to the outsiders and at the same time benefit the permanent residents.
Now with amended laws in place it has become possible for foreigners to buy homes in this idyllic tourist destination in the southwest Indian Ocean. Earlier, only the big brand hotels, luxury resorts and chains were able to secure leaseholds on some of the country's 1,200 islands.
The designated resorts are now allowed to sell leases to individuals. The island nation with a small population of just 315,000 receives over 600,000 tourists annually. According to the new system the lease sold to the resort operator can be resold to individuals in the form of vacation villa package. The government is committed to renew the lease but in case they decide not to renew they have the option of buying back at market prices. 12 Blues was the first company to introduce a residence option on one of the islands of Maldives.
The project was located on the island of Lundhufushi, 130 kilometers, or 80 miles, from the capital of Malé. Under the project 40 vacation villas have been planned and ten of them have already been sold. The resort complex will have a Franklyn hotel, spa and a variety of restaurants and bars. Singapore company Eco.id are the designers of the resort. The individual properties on offer have prices starting from $2.3 million. The buyers have the option of putting the villa into the resort's rental pool. They will receive 50% of net revenue and six weeks of free stay in return.
Source: nytimes.com