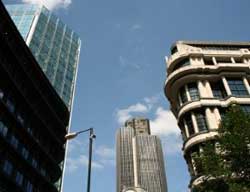 The London property market is one of the most competitive in the world, with supply unable to meet demand. With a large proportion of the city's population choosing to rent, the capital is also a playground for landlords. However, to ensure the sector's good fortune can be sustained into the future, green investment must take centre stage.
According to a report by property adviser GVA, beyond 2018, real estate will need to be energy efficient in order to be lettable.
Environmentally friendly developments are proving to be strong property investment opportunities and to keep pace, landlords of older, less eco-stock must show a commitment to energy efficiency technologies.
GVA claim that 85% of property investors around the UK have already committed themselves to assessing the energy efficiency of their own portfolios in 2013.
However, of these, just one in five stated they would dispose of inefficient properties. The same percentage claimed they would retrofit those sites that fell short of the mark.
These findings, contained in the 'Green to Gold – Sustainable investment attitudes' report, come just five years before minimum energy performance standards take effect.
By 2018, it will be illegal to let residential or commercial properties that do not meet minimum energy efficiency standards. This will be classified as those buildings that fall below an E rating.
Currently, a fifth of all commercial properties are below these standards, indicating landlords must take action now.
Luckily, it seems that investors are beginning to take notice of environmental issues, with the GVA noting a greater importance being placed on sustainability factors within acquisition and disposal decision making between 2007 and 2012.
"Bearing in mind the challenges that investors continue to face, it's encouraging to see that the vast majority consider sustainability to be an increasingly important issue and the announcement of minimum energy performance standards has certainly helped the focus," notes Mr. Alastair Mant, head of sustainability at GVA. "However, many in the industry appear to be unsure of how to assess and value the risks, costs and benefits associated with sustainability and this must change if the appropriate investment decisions are to be made. Time is of the essence."