House prices up 4.34% y-o-y in 2019
Lithuania's housing market remains healthy, with the five major cities' apartment price index (covering Vilnius, Kaunas, Klaipėda, Šiauliai and Panevėžys) rising by 4.34% y-o-y in 2019 (inflation-adjusted) – an improvement from a y-o-y rise of 2.01% in 2018. Quarter-on-quarter, house prices increased 1.65% in Q4 2019.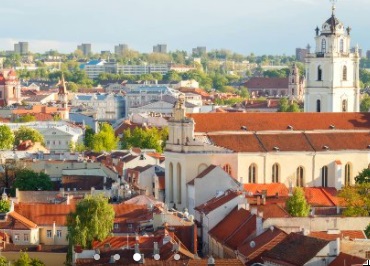 Demand remains strong, amidst weakening supply
In the first half of 2019, the number of transactions for apartments and houses in Lithuania rose by 4.6% and 8.1%, respectively, as compared to the same period in 2018, according to the State Enterprise Centre of Registers. In fact, the total number of purchases last year was the highest in the country since 2007.
Yet residential construction activity is mixed. In 2019, dwelling permits fell by 7.1% y-o-y to 15,374 units while dwelling completions increased 3.1% to 12,577 units, according to Statistics Lithuania.
Rents, rental yields: rental yields are good at 5.39%Vilnius apartment costs are very low at around €2,163 per sq. m.
Lithuania: typical city centre apartment buying price, monthly rent (120 sq. m)
Buying price
Rate per month
Yield
Vilnius
€ 259,560
€ 1,166
5.39%
Recent news. Lithuania's economy grew by 3.9% in 2019 from a year earlier, following an annual expansion of 3.6% in 2018, mainly driven by growth in industrial production, exports, and freight and passenger transportation, according to Statistics Lithuania. The Bank of Lithuania projects that the country's GDP growth will not exceed 3% this year, as global events such as trade conflicts, Brexit, and the US-Iran conflict could undermine the domestic economy.