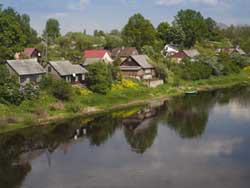 The amount of investments made by foreigners in the Latvian real estate exceeded almost 340 million euros in 2012, according to Arcoreal's International Real Estate division.
Latvia has drawn tourists and frequent visitors have acquired residential permits exceeding 425 million euros at the end of November 2012, including almost 340 million euros invested in real estate, notes Ms Olesja Bogodistaja, Head of international real estate brokerage service department of Arcoreal Properties.
Latvia, which used to draw buyers from neighbouring Russia since 2010, had received applications for residence permits from China, the U.S. and Israel.
Gathered data showed that applications for residence permit last quarter of 2012 were submitted from citizens of Russia (3566), Ukraine (433), Kazakhstan (289), Uzbekistan (149), Belarus (118), China (106), Azerbaijan (56), Israel (24) United States (22), Kyrgyzstan (21), Georgia (10) Turkmenistan (9) and other countries.
The most popular locations as to obtaining residence permit on the basis of ownership of property in Latvia during this period were Riga (801) and Jurmala (531). Also Babīte (53), Ozolnieki (42), Mārupe (28), Cēsis, (23), Saulkrasti (20), Amata (17), Garkalne (17), Ādaži (10), Carnikava (8), Iecava (7), and Madona (5).
Ms Bogodistaja says that foreigners may had been drawn to Latvia, not just because of the nostalgic scenery but in the simplified procedure of obtaining residence permits in Latvia is simplified for property buyers made effective since August 2011.
"Now, documents for a residence permit can be submitted in Riga – to the Office of Citizenship and Migration Affairs, immediately after the purchase of real estate," she adds.
From July 1, 2010 a Latvian residence permit for up to 5 years (with an option to extend), based on ownership of real estate, can be obtained by purchasing property in Riga or Riga district at a price not lower than LVL 100 000 (EUR 142, 888) but in the other largest cities of the country - at a price that is not less than LVL 50 000 (EUR 71,144).