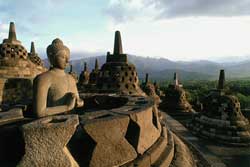 Indonesia's housing property sector stands to benefit from the passage of the land acquisition bill, which directly improves infrastructure projects initiated by the government and the private sector.
On Friday, members of Indonesia's Congress gave its nod to the land acquisition bill, which could spur more investments in the property sector as the country needs more infrastructure development to decongest its roads, ports, and airports.
Jakarta-based fund manager Jeremy Paul from Sucorinvest Asset Management said the land bill will allow majority of halted construction projects of toll roads can proceed with this new development.
He noted that banks could eventually disperse of loans to companies for infrastructure development hampered this year.
Indonesia's Parliament approved the bill, which targets to hasten land acquisitions for infrastructure projects. After this, the bill requires a separate presidential regulation, which government officials say should be accomplished in 2012.
Some key points of the land legislation bill:
It gives a clear timeframe for land acquisition that includes decisions over a location, an appeals phase and compensation now to be decided by a court within 30 days.
It will also shorten the time it takes for infrastructure projects to acquire land.
Compensation can come in the form of cash, land swaps, share ownership, aided relocation and/or other forms agreed by both parties.
The bill gives local governments authority to decide on the location of a project.
It equips the National Land Agency, or BPN, to oversee the acquisition process.

Buy-to-let property rental yields are quite attractive in Indonesia averaging within 7.9 to 10.21%, data from the Global Property Guide Research (GPG) indicated. Apartment and housing property prices are also favourably reasonable with prices ranging from US$1,300, to US$1,830 per square metre (sq. m) in Jakarta's central business district. While villas in Bali sell in a range from US$1,260 to US$1,380 per sq. m., but generally have lower yields with an average of around 3.9% to 5.5%.
However, Global Property Guide Research, warns non-residents of the taxes imposed on property for rental use. Rentals owned by foreigners are charged a flat rate of 20% for income tax. Moreover, a separate rental income tax is imposed on non-residents at a final withholding rate of 20% of gross income, GPG said.
Source: Reuters