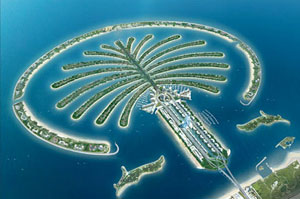 Over the past 12 months, prices of residential property in Dubai have increased by more than 22%, worrying experts including the IMF. "Should price increases continue to take place at this pace, action will need to be taken to prevent a bubble," IMF mission chief for the UAE, Harald Finger, warned Dubai.
The surge appears largely fueled by funds flowing in from Central Asia, Russia and China, according to a report released early this month by property consultancy Jones Lang LaSalle (JLLS). Such a "rate of increases...is indeed unsustainable," says JLLS. The consultancy firm expects that "while residential prices and rents will continue to increase over the next 12 months, the rate of increase will decline somewhat."
Dubai's now booming property market will inevitably hit another slump in 18 to 24 months, warned Faris Mansour, director of Mubadala Pramerica Real Estate Investors, and Robert Lee, chief executive officer of Bahrain Bay, at the recently concluded Cityscape Global 2013 real estate fair.
Mansour said, "[A fall] is something we should all expect to happen and I expect it to happen in the next 18 to 24 month as capital becomes more expensive globally. The massive use of capital in emerging markets will eventually raise the cost of capital over time. That cost of capital will have a direct effect on real estate."
"In the next year or two, we will see a definite correction in prices. Real estate, with all due respect, is a cycle business," added Lee.
The authorities have already doubled the transaction tax from 2% to 4% to discourage flippers. About 80% of buyers now pay in cash instead of mortgage loans, according to JLLS research. More importantly, it seems that everyone with a stake in the market has already taken to heart the lessons learned from the previous crash.
"Banks are tight on lending, the central bank is tight on lending, government regulations are being modified and monitored. So I think we are fine, " says Mohamed Al Alabbar, a senior aide to Dubai's Ruler and chairman of Emaar, one of the world's largest developers. "But people like to trade, people are greedy and so mistakes do happen...," Alabbar told the press.
Dubai's property market crashed in 2008 during the initial stages of the global financial crisis. The national economy started recovering by 2011, and in 2012 achieved 4.4% GDP growth.