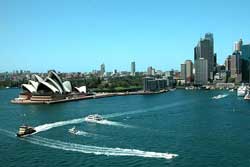 About 23.8% of all houses and 11.6% of all units sold were priced in excess of AU$1 million in Australia's capital cities including Sydney, Brisbane and Melbourne.
Sydney is the most expensive Australian city with 49.3% of houses sold in excess of AU$1 million.
Melbourne reported an increase of 5% in the number of homes selling for AU$1 million, with 28.3% of all houses falling in this category.
Over 16% of single family homes in Australia were sold for more than AU$1 million (US$0.77 million) in the 12 months to December 2017, making an increasing number of Aussies instant millionaires.
However these numbers will likely fall in the near future due to a recent downturn in the value of some capital city housing market, according to a CoreLogic report.
"A number of capital cities have now recorded falls in values, in particular the most expensive city, Sydney…Additional data also indicates that values are falling by the greatest amount across the premium sector of the housing market," the report says.
"Should these declines continue, it may result in a decline in the share of sales of properties at or in excess of $1 million throughout 2018," according to the report.