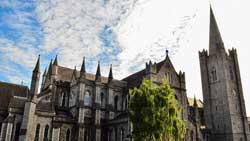 Trend: house prices up 13.52% y-o-y in Q2
Residential property prices were up by 13.52% during the year to Q2 2017, after y-o-y rises of 8.91% in Q1 2017, 8.15% in Q4 2016, 7.68% in Q3 2016, and 4.57% in Q2 2016. During the latest quarter, Irish house prices increased 4.7% in Q2 2017.
Analysis: GDP growth very strong 5.2%
The Irish economy grew by a healthy 5.2% last year, after GDP growth of 26.3% in 2015 (obviously a statistical artefact), 8.5% in 2014, and 1.1% in 2013, according to the European Commission.
Rents, rental yields: excellent yields at 7.18%
Dublin apartment costs are around €2,354 per sq. m.

Recent news: Despite uncertainties related to Brexit and future US tax and trade policies, the Irish economy is expected to remain strong this year with a projected GDP growth of 4.5%, according to the Central Bank of Ireland.