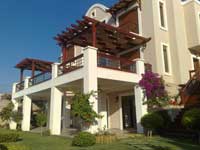 The cost of buying residential real estate in Turkey increased during February, climbing by 0.78 per cent overall compared to January.

In its monthly property price index, REIDIN.com revealed Antalya experienced the biggest rises, with the value of existing homes up by 1.11 per cent. Adana and Izmir also recorded hikes of more than one per cent in February, while Istanbul saw house prices jump by 0.98 per cent.

Meanwhile, the REIDIN.com-GYODER new home price index found the value of such real estate was up by 0.6 per cent month-on-month in February. Since the same month in 2011, the cost of purchasing a new-build property has increased by 10.42 per cent.

Data published recently by Knight Frank also indicated Turkey's housing market is performing well. According to the firm, the value of homes in the country climbed by 7.7 per cent between the final quarter of 2011 and the same period a year earlier.

A quarterly rise of 2.4 per cent was recorded in between October and December, compared with the previous three-month period.