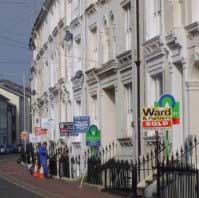 House price growth in central London slowed down in 2012, according to research by Savills. Despite strong international demand, it seems three and a half years of high growth are coming to an end.
However, average prime central London values finished the year 23.9% above their former 2007 peak, while the market over £5 million recorded prices 32% above peak.
Yet these impressive figures cannot account for the fact annual price growth was at its lowest level in 2012 since the beginning of the recovery in 2009.
Over the last three months, price value increases slowed to 0.6%, rising by an average of just 5.3% this year.
This is considerably lower than the 21.3%, 6.7% and 14.2% growth noted in 2009, 2010 and 2011 respectively.
Savills believes this in the result of the spring Budget, which ushered in widespread cuts and taxes that target prime property.
Over the last three quarters, prime central London price growth totalled 1.5 per cent, compared to the 3.7 per cent growth noted in the first three months of the year before the budget.
During the final quarter of the year, only Knightsbridge and Chelsea enjoyed a price growth, with values rising by 1.9% and 1 %, respectively.
This is in sharp contrast to previous years, where the two areas set the pace for growth and outperformed other parts of London.
However, Knightsbridge still ended 2012 41.1 per cent above its peak level.
"London is an equity-driven, highly discretionary market and some volatility is inevitable at this stage in its recovery, particularly against the backdrop of wider global economic uncertainty. We had therefore been forecasting a short-lived slowdown for some time, but were not clear until the Budget what the catalyst would be," notes Yolande Barnes, director of Savills world research.
Ms Barnes explains that buyers should now expect price growth to hover around zero next year, particularly as the market absorbs the impact of increased taxation.
"There are still clear global reasons to invest in the real estate assets of a mature market and confidently forecast renewed growth from 2014, totalling 25.6% by 2017," she adds.