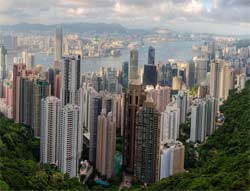 Trend: house prices up 19.27% y-o-y in Q2
Hong Kong's housing market is the second best performer in our global house price survey, with residential property prices surging by 19.27% during the year to Q2 2017. This was in sharp contrast with the y-o-y decline of 10.51% during the same period last year. Quarter-on-quarter, house prices increased 4.24% in Q2 2017. The latest house price rises come despite the government raising stamp duties for all non-first time homebuyers starting November 2016
Analysis: Demand is surging.
During the first seven months of 2017, the total number of property transactions in Hong Kong increased 47.4% to 35,628 units from the same period last year whiles sales values surged 80.8% to HK$329.8 billion (US$42.15 billion), according to the Ratings and Valuation Department (RVD). Strong housing demand has been propelled by low interest rates and limited supply of land, which the government controls.
Rents, rental yields: poor yields, at 2.62%
Apartment costs in Hong Kong are very high, at around $26,325 per sq. m.
Hong Kong: city centre apartment, buying price, monthly rent (120 sq. m.)
Buying price
Rent per month
Yield
$3,422,250
$7,470
2.62%
Recent news: lending caps tighter, government wants more construction
In May, the Hong Kong Monetary Authority (HKMA) imposed new restrictions on bank lending to property developers, to restrain the city's real estate prices, restricting loans to property developers a maximum 40% of a site's value, replacing the earlier limit of 50%. The cap came into effect from June 1. The HKMA's new curbs will affect smaller developers most, as they rely more heavily on financing. Recently, a 30-person Land Supply Task Force was set up to consider long-term solutions to Hong Kong's housing crisis, given the outcry about 'coffin homes'. Hong Kong's economy is now expected to expand by 3% to 4% this year, an upward revision from the earlier forecast of 2% to 3%.