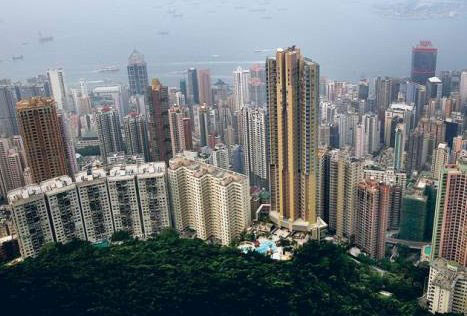 A study of 378 metropolitan areas in nine countries has found that Hong Kong, Vancouver and Sydney are the most unaffordable housing markets in the countries studied.
Housing affordability in Hong Kong has reached record heights. Its median home price was 17 times the median pre-tax household income in 2014, the least affordable ever recorded in the 11 years of the Demographia International Housing Affordability Survey, up from 12.6 times a year earlier.
In Vancouver, median home prices were 10.6 times household incomes. In Sydney they were 9.8 times times household incomes.
Markets where homes cost more than 3.1 times incomes were classified unaffordable by the study, and those where the multiple is 5.1 or higher as "severely unaffordable" by Demographia Other "severely unaffordable" cities included San Francisco and San Jose (each 9.2), Melbourne (8.7) and Greater London (8.5).
Three other markets had median multiples of 8.0 of above, including San Diego (8.3), Auckland (8.2) and Los Angeles (8.0). The study included metropolitan areas in 9 countries: Australia, Canada, China, Ireland, Japan, New Zealand, Singapore, United Kingdom and United States.
Housing prices rose by 1.6% during the year to Q3 2014 in Hong Kong, suggesting that measures imposed by the government to cool the property markets are working. Shortage of supply, steep increase in demand from both local and global property investors and regular buyers are considered responsible for continuous price rise in Sydney.
"These markets have severe land use restrictions that have been associated with higher land prices and, in consequence, higher house prices..." according to the study.
The U.S housing markets were comparatively affordable. All the 10 most affordable markets including Detroit and Rochester and Buffalo in New York were in the U.S. However, some other metropolitan areas like San Francisco, San Jose, San Diego and Los Angeles, all in California, were among the least affordable.
Housing affordability in the U.K. worsened slightly. Homes were 5 times incomes, up from 4.9 a year earlier.
New Zealand, however, reported improvement in housing affordability, with prices 5.2 times incomes. The ratio was 5.5 times a year earlier. Singapore's housing affordability also improved slightly, to five times incomes from 5.1 last year.
The study has the advantage of looking at more individual towns than comparable work by The Economist, or the Global Property Guide, but it covers many fewer countries. It uses the measure of "median multiple" (median house price divided by gross annual median household income) to assess housing affordability, a figure recommended by the World Bank and the United Nations. The median (= the middle income) is a superior measure compared to the mean (= total income of everyone divided by number of people).
Demographia, which conducted the study, describes itself as a "consultancy" but it is one with a strong ideological angle, and might be described as free-markets pressure group. It campaigns for the removal of all "artificial" controls on housing construction, i.e., it calls for total freedom for developers to make cities as ugly as they please, regardless of the wishes of their inhabitants.