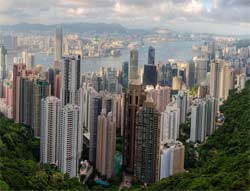 Hong Kong's property markets may soon get a reprieve from steeply falling prices with a recent government pronouncement that the "cooling measures" will soon be eased.
Hong Kong's top finance officer Mr. John Tsang acknowledged that the market-cooling measures had pulled down apartment prices, and that a "soft landing" is likely in 2012.
In an interview in South Africa reported by Bloomberg News Mr Tsang said that the government would soon take "countercyclical measures to arrest the downward trend.
In November, Hong Kong's property prices dropped to a six-month low because of stiff taxes imposed by the government to discourage wealthy buyers from mainland China and other market speculators that triggered prices jumps early this year.
The Hong Kong government may soon remove the Special Stamp Duty (SSD) and minimum down payments ranging from 10% and 50% imposed on foreign buyers acquiring a property priced not lower than HK$6 million and HK$10 million, respectively.
Mr. Tsang did not say when these measures would be introduced, but noted that it was unlikely to be later than the second half of 2012.
Source: Bloomberg News, Xinhua News Agency