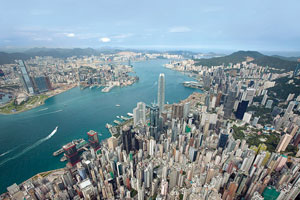 Hong Kong will increase its land supply to deal with the housing shortage, promised Chief Executive Leung Chun-ying in his recent policy address. His government will relax out-dated restrictions and streamline procedures to facilitate building new homes.
Pointing to land shortage as root cause of many social and economic problems, Leung expressed worry over young and middle class families being priced out of the housing market, deterring them from forming a family or starting a business. He stressed the need for long-term land supply planning to curb runaway property prices and rents for residential homes.
There is no lack of land in Hong Kong; the problem is shortage of land that is developable.
"The process of planning takes time…We have to take into consideration more and more factors such as the impact on traffic, environment, conservation and even air ventilation in the planning process… Planning must reflect the overall interests of Hong Kong and heed the priorities of society's need.
"Not only the well-being of individual areas in planning and development, but also the overall housing supply and demand of Hong Kong as a whole should be considered," he said.
Land shortage has caused the failure of several government schemes for affordable housing. During Tung Chee-hwa's administration, the government launched a scheme to build 85,000 new flats each year, but failed to meet the target.
In 2014, Chief Executive Leung Chun-ying also failed to meet his target of 47,000 new units.