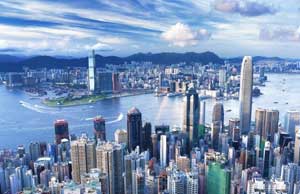 Hong Kong apartments are being subdivided into many tiny spaces to accommodate those otherwise priced out of the city's spiralling housing market. The term 'coffin homes' has been coined for these spaces, which can be as tiny as 20 square feet. Nearly 200,000 Hong Kong residents now live in such coffin homes, according to government data, but experts say the real number is much higher.
The trend underlines Hong Kong's severe housing affordability problem. The city of nearly 70 million people was named as the world's least affordable housing market for the seventh consecutive year in the latest Demographia International Housing Affordability Survey.
According to government data, home prices have increased 50% over the past five years, pricing middle class families out of housing.
Hong Kong's Chief Executive Leung Chun-ying admitted in his policy address last month that surging home prices was "the gravest potential hazard" to society.
"To own a home and repay a mortgage, many people set their eyes on making as much money as they can. Money also weighs heavily on young people when they make academic or career choices. The housing problem also poses the gravest potential hazard to the Hong Kong community as many families have no choice but to live in subdivided units, even in industrial buildings," he said.
These "subdivided units" are becoming increasing popular. The lack of legal guidelines related apartment size has been blamed for the growing trend. Experts say that developers are charging hefty rents for even these 'coffin homes'.
The government aims at building 460,000 flats – 280,000 public housing and 180,000 private – over the next decade.
Experts and social organizations are demand that the government should introduce emergency short-term solutions, like transitional housing, rent subsidies, and rent controls, to provide immediate relief to the housing crisis.
According to the Demographia survey, Hong Kong's median housing price is now 19 times median incomes, rendering it "severely unaffordable." The city-state's median affordability multiple is now the highest - least affordable - in the survey's 12 years.
Sydney is currently the survey's second most unaffordable city, with a median multiple of 12.2, followed by Vancouver at 10.8.