As global growth slows and land supply in Hong Kong grows, home prices in the Special Administrative Region are set for the biggest decline since 2008.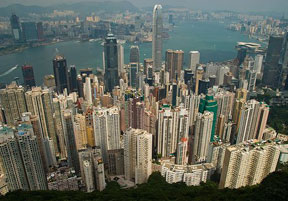 In the last two and a half years, home values surged 70%, outperforming stocks. Now they may go down by as much as 10%, according to Midland Holdings Ltd. and Centaline Property Agency Ltd., the city's two largest real estate agents. Home transactions fell for the seventh straight month in July to the lowest it has been in 30 months (February 2009).
Developers expect another drop in sales as transaction volumes dip even lower and deposit forfeits grow for the first time in 2011.
Hong Kong's economy is headed towards what looks like a year-long recession, says economist Kevin Lai of Daiwa Capital Markets. The benchmark Hang Seng Index has dropped more than 20% from its high in November, after Standard & Poor's downgraded the U.S.'s sovereign-debt rating for the first time in its history on Aug. 5. The Hang Seng Property Index, which measures the region's seven largest developers, is down 24% in the same period.
The last major home price crash in Hong Kong began in October 1997, three months after the start of the Asian financial crisis and the transfer of sovereignty over Hong Kong to China, and lasted until August 2003, just after the SARS epidemic had run its course. Prices fell nearly 50% in the first year of the crash
Home prices had risen over 140% from the end of 2003 to the end of 2010. Incomes rose 20% in the same period.
Source: Bloomberg