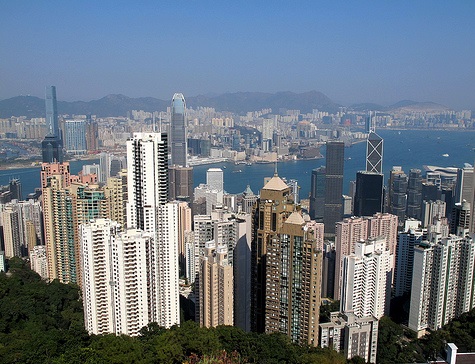 The Hong Kong Monetary Authority (HKMA) has imposed new restrictions on bank lending to property developers, in order to restrain the city's real estate prices.
Hong Kong's de facto central bank directed banks to restrict loans to property developers a maximum 40% of a site's value, replacing the earlier limit of 50%. The cap will come into effect from June 1.
The limit on construction cost financing will be cut to 80%, from the previous 100%. The overall lending cap will be 50% of the expected value of a completed property, down from 60%. Experts say that the HKMA's new curbs will affect smaller developers most, since they rely more heavily on financing for their projects.
The HKMA said it was common for property developers to offer home buyers mortgage financing with high loan-to-value ratios, and that the trend is increasing. It added that some developers' lending arrangements are inconsistent with prudent practice.
Home prices in Hong Kong have more than quadrupled since 2003, but the median monthly household income has risen only 61% during the same period. Middle class families have largely been priced out of the housing market.
The government was widely criticized when the local media highlighted the growing trend of apartments being subdivided into many tiny spaces to accommodate those otherwise priced out of the city's spiralling housing market. The term 'coffin homes' has been coined for these spaces, which can be as tiny as 20 square feet. Nearly 200,000 Hong Kong residents now live in such coffin homes, according to government data, but experts say the real number is much higher.