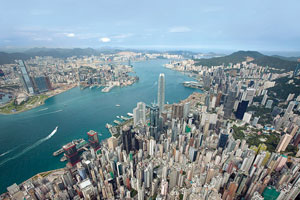 A series of cooling measures introduced by the Hong Kong government early this year has taken much of the heat out of Hong Kong's property market. The local secondary home market became even more sluggish in August. Total transactions dropped 14.5% month on month in August, according to Knight Frank's latest monthly report.
The number of sales fell to 3,407, the lowest figure since January 2013. "Few deals were recorded in major residential estates last month and the secondary home market is expected to remain inactive in coming months," Knight Frank's report said, "transaction volumes will only rebound when home owners become willing to cut prices sharply."
Centaline Property Agency, one of the city's leading agents, saw their new home transactions dropping 22% in the first half of this year from a year earlier, and falling 40% compared to the second half of 2012. Colliers' sales in Q2 were their lowest in Hong Kong since 1996. Industry analysts expect Hong Kong residential prices to drop between 5% and 15% by year-end.
On the leasing front, luxury residential rents dropped 2.7% in August, the biggest dip since August 2009, according to Knight Frank. "We believe there will be a drop in activity in both the primary and secondary markets over the year,"said Knight Frank.
The government cooling measures included a 15% stamp duty on foreign and corporate buyers of residential flats, a special stamp duty against the resale of flats within 36 months, and a doubling of the stamp duty on all buyers of residential and non-residential properties, except Hong Kong permanent residents who do not already own a flat.
These measures, while already in effect, have yet to be formally passed into law. Once passed, they will legally retroact to February.
Despite appeals from property developers and agents, Hong Kong's Chief Executive Leung Chun-ying has already announced that he has no plans to withdraw or relax these measures.
According to Mr. Leung, the measures were in line with the government's greater policy of giving priority to the demands of native Hong Kong residents when allocating resources during shortages. In a public forum he said, "Housing is a major issue in our society. Other social and political issues cannot be resolved without solving the housing problem."
Source: Property Wire