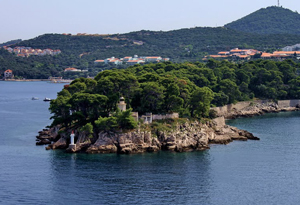 Croatia's 5-hectare Daksa island on the Adriatic is up for grabs for only 2 million euros (US$2.76 million). It comes complete with woodland, private beaches and its own Franciscan monastery. It is right in front of Dubrovnik, which is a UNESCO World Heritage Site and one of the favorite Mediterranean playgrounds of the rich and famous. It is also reportedly haunted by ghosts.
On October 24,1944, just after WWII, 48 suspected Nazi collaborators, including the village priest and mayor, were rounded up by Yugoslav partisans and brought to Daksa where they were summarily gunned down in cold blood without proper trial. The corpses were left to rot in the open, remaining unburied for decades. The crime has never been investigated. The locals say the spirits of the massacre victims to this day continue to roam the island demanding justice.
Daksa was placed on the block three years ago by owners Nila Perica Dusilo Florshutz and Franica Dusilo Cavich. So far, there are no buyers. The island remains uninhabited and tourists very rarely venture there.
The county of Dubrovnik-Neretva has the legal right to offer to buy the island first. However it was hit hard by the financial crisis, and hasn't exercised its right. Daksa is thus now available to any interested buyer.