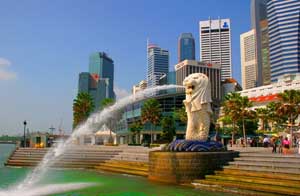 Weighed down by government cooling measures, residential property prices in Singapore have fallen 8.2% from their peak in September, 2013 – a decline in values for eight consecutive quarters, according to rating agency Fitch. It's the residential property market's worst performance in the past 13 years.
In the latest APAC SF Chart of the Month, Fitch says the biggest factor responsible for decline in value is government cooling measures followed by low immigration rates and the skewed demand and supply ratio in the housing markets. The report suggests that supply currently outnumbers demand, leading to slowdown in the number of properties being sold. As a result, Singapore – once a hot property market for foreign as well as domestic investors – is slowly turning into a buyer's market.
"Singapore experienced significant growth in immigration up until the global financial crisis in 2008″, the report says, adding that high immigration rate boosted the demand for housing.
In response to the demand, property supply increased greatly in the last seven years, but the foreign resident immigration has slowed from 4% at the end of 2013 to 2.1% in September 2015, contributing to the slowdown in capital growth.
The biggest reason behind the drop in residential property values, particularly in the luxury property segment, is increasing vacancies.
The Singaporean government has imposed several restrictions on home buyers. Debt is capped at 60% of a borrower's income. Real estate taxes have also been increased. The government recently raised the minimum cash down payment for individuals applying for a second housing loan to 25%, from the previous 10%.
The government increased the additional buyer's stamp duty (ABSD) on private and public housing for foreign real estate investors from 10% to 15% in January, 2013. Foreign buyers pay ABSD, introduced for the first time in December, 2011, in addition to standard stamp duty rates. These rules are also applicable foreigners on long-term passes (called "permanent residents"), but they pay at a lower rate of 5%. Singapore residents have also been brought under ABSD's ambit, having to pay 7% ABSD when buying their second home.
The government also introduced a Seller's Stamp Duty on industrial properties for the first time, to discourage speculative activity in the industrial market.
The Singapore government is unlikely to relax cooling measures in the near future.
Singapore's Finance Minister, Heng Swee Keat, stressed upon the importance of these measures at length at an event in November, which seems to indicate that these measures are going to stay for a while.