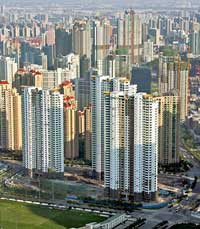 China's home prices are up an amazing 19% year-on-year. But the slowdown is coming! The authorities got alarmed in recent months, and in October they put in a slew of cooling measures, which have already started to weigh on China's property markets.
November reported the sharpest drop in homes sales in the past year and new property investment slowed significantly from recent record levels. Property sales growth fell to 7.9% in November from a year ago, its lowest since November 2015.
Increasing down payments requirements and many restrictions on second-time home buyers are some of the measures taken to rein in on skyrocketing property prices and speculation activities. Shanghai, Beijing, Tianjin and Nanjing are among many cities where restrictions were imposed on property buyers and investors.
In Shanghai, people buying a second home now need to make a down payment of 50%. Buyers of commercial properties have to put 70% of the property's value down. Home buyers will not get a mortgage if it exceeds 40% of their income. For the second time, banks will also increase interest rates by 10% for home buyers borrowing from the government's Housing Provident Fund.
The House Price Index of 100 Chinese cities of the China Index Academy rose 18.7% y-o-y in November 2016 to an average of CNY 12,938 (US$ 1,871.34) per square metre (sq. m.), a slight increase from 18.21% y-o-y growth the previous month.
Prices rose in 75 of the 100 cities, y-o-y.
But November witnessed a sharp decline in home sales. Growth in property investment was 5.7% in November, a sharp decline from the previous month when it was 13.4%, according to the data recently released by the National Bureau of Statistics (NBS).
The slowdown in the real estate market was expected. Sales growth could even be negative in 2017, according to experts.
National Statistics Bureau (NBS) spokesperson Mao Shengyong said that property control measures have achieved intended initial results. However the National Academy of Economic Strategy, a part of the Chinese Academy of Social Sciences (CASS), warned in a report released recently that an "overcorrecting" property market would be a drag on economic growth and impair financial stability. That suggests that as in previous years, the Chinese authorities will swing first one way, then another, without ever squeezing so much as to endanger economic growth.