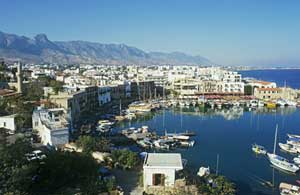 The Cyprus government plans to impose restrictions on real estate agents who act as intermediaries in the Golden Visa Scheme that grants Cyprus citizenship to foreigners in exchange of cash investment.
The restrictions are being imposed following complaints of "unethical" practices being adopted by some professionals in helping foreigners to secure Cyprus citizenship under the scheme.
The government will create a register of agents certified to promote the scheme and come up with a code of ethics that real estate agents will have to comply with. Those violating the code will have to pay huge penalties apart from being banned from advertising properties to foreigners under the scheme.
There were complaints that some agents are advertising properties in countries which don't allow "dual citizenship". It will be illegal for the citizens of those to buy properties in Cyprus for getting residency permits.
Many real estate professionals are milking the scheme to make hefty commissions and aggressively advertising properties to foreigners on social media and other online channels. It is believed that some restrictions will also be imposed on online advertising of Cyprus properties, targeting foreign nationals.
Cyprus is facing flak from the European Union and international press after it was reported recently that many influential people facing allegations of corruption in their own country are getting Cyprus visas through "dubious" investments.
The Cyprus government claims that applications under the scheme are closely examined with the assistance of domestic and international agencies – such as Interpol – to ensure that they are not a security risk to Cyprus or the EU. Any applicants with criminal records are automatically rejected.
Cyprus grants citizenship to foreigners for investing €2 million (US$2.36 million) in residential real estate if the investment is made solely in residential real estate, at least a quarter of which must be spent on a residence for life. If not, the threshold is €2.5 million (US$2.94 million), at least €500,000 (US$588825) of which must be spent on a permanent residence.
The scheme was launched in 2013 and nearly 1,300 persons have been granted citizenship since then, racking in €3.3 billion (US$3.89 billion) in foreign investment by the end of 2016.