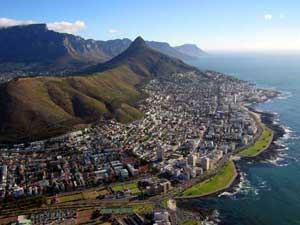 African real estate markets are increasingly attracting overseas property investors, but the focus of buyers is shifting from South Africa to real estate markets in the continent's other countries. The result is that continent is set for a property boom, argues a recent Knight Frank report.
A fast-growing population is the key reason why international investors are eyeing residential properties in Africa. The continent is expected to be home to four billion people by 2021, nearly 40% of the world's total population.
Until recently, Africa has been a hot destination for Chinese property developers, but the continent is now attracting property investment from other Asian countries, and also from Middle East.
Nigeria's Lagos, Tanzania's Dar Es Salaam and Angola's Luanda are among the fastest developing cities in the world, with strong prospects of a property boom, according to the Knight Frank research. The report notes that apart from the demographic growth, strong economic growth is another reason why buyers are taking notice of African real estate markets.
The firm estimates that Nigeria is likely to be one of the continent's strongest property markets, stronger even than South Africa as it will be home to a quarter of the total African population. Nigeria's economy has also rebounded and grew to nearly US$892 billion in 2014.
As affordability levels in South Africa have deteriorated in the recent years, developers from South Africa are eyeing real estate markets in neighbouring countries. Xenophobic attacks in Durban recently may also deter foreign investment in South Africa's property markets in the short term, if not the long term, experts believe.
"We have seen rising interest in Africa from an increasingly diverse range of international investors, developers and occupiers in recent years," said Tony Galetti, Joint CEO and Co-Founder of Galetti Knight Frank.
"The inflow of investment from China into Africa has been well publicized, but there is also growing activity involving investors from elsewhere, including the rest of Asia and the Middle East. Meanwhile, an increasingly significant flow of capital has emerged from South Africa into other African markets."