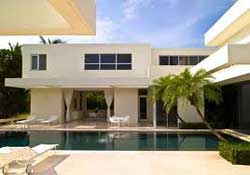 Overseas investors now dominate the Australian rental residential property market with close to a third of the new apartments in key cities. That's about 13,000 apartments in 37 projects spread across Australia, said property group CBRE.
Unlike the late 1980s when there was a Japanese office and hotel development boom, this time 92% of all apartments being proposed or developed by foreign firms are owned by Singaporeans, explains CBRE Executive Director Kevin Stanley.
The biggest is Frasers Property which has invested in Sydney's Central Park project on the old CUB site in Chippendale and accounts for 2,900 apartments.
Frasers is followed by the Far East Consortium of Hong Kong which is constructing 2,600 apartments in the Upper West Side on Lonsdale Street in Melbourne.
"Other investors in apartment developments are Malaysians, Chinese, Koreans and Indians," adds Mr Stanley, noting that Chinese investors are relatively newcomers whose presence was felt only in 2011 after Beijing encouraged them to go offshore to cool off China's residential property market.
Among the Chinese developers that have bought sites in Australian cites for property development are Datong Investment, Yan Jian Development and Lenland Property. They took about 9%of planned apartments by foreign developers.
Melbourne gets more
The bulk of the foreign investments are in Melbourne's apartment market instead of Sydney because of the availability of larger sites on the northern edge of the city in Victoria.
CBRE said that Asian money now make up 51 % of all foreign investment in commercial property in Australia and 19 % of all transactions in 2011.
This situation has placed pressure on local developers because their foreign counterparts could source funds from overseas financiers and sell unlimited number of flats due to the revised foreign investment rules.
In the case of local developers, they often have to meet tough bank restrictions such as a requirement to sell 100 % of the apartments before funding is considered which has become a new requirement after the global financial crisis.
Mr Stanley attributed the attractiveness of Australia to foreign developers due to the relatively lower cost of construction and the stable economy that allows the developers to move equity and diversify their risk.
Source: ibtimes.com