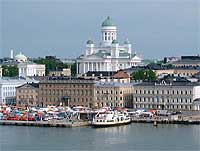 The rapid growth of house prices in Finland has slowed, as consumer prices have risen 4%. Energy prices will probably soon drop as well.
The debt crises in Western countries have led to uncertainty in the housing market and economic affairs in general, but some economists do not regard the risks in the Finnish market as serious.
"Given no price bubble nor any risk of price collapse, it is possible to buy a home according to one's own life situation," says Markus Lahtinen, Research Director of Pelervo Economic Research. "In Finland, we could see unemployment rising to some extent, but I do not believe in any end-of-world scenarios relating to the economic development."
House prices rose 4.6% from June 2010 to July 2011, but Lahtinen does not see a significant increase happening in the second half of the year. In the same period, interest rates on housing loans rose 22.9%, but dropped in August.
Source: Helsingin Sanomat