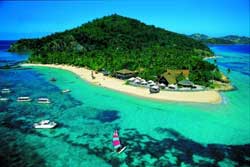 Island living and opportunity for tropical investments has never been so attractive with a record number of international visitors to Fiji and a $209.4 million gross earnings from tourism, showing a 5.1 % increase on last year.
Fiji Tourism Ministry recently announced predictions that tourism will contribute more than 40% to Fiji's GDP by 2021, creating an estimated 60,000 more jobs in the region. The strength of the tourism market means quality properties will continue to increase in demand.
The owner of Fiji's largest development, Bob Lowres of Naisoso Island said that Fiji's affordability for tourists and investors is timely given the current global financial climate.
"With the strength of the tourism industry behind us, the high level of demand for stock, and the Aussie dollar continuing to be a solid performer against other currencies, investment in Fiji has continued to increase," he said.
"Coupled with the quality of projects like Naisoso, people are no longer just looking at destinations like Byron Bay or Palm Cove for their beach homes or investment properties, they are looking at Pacific Island destinations as a viable option, receiving a higher return on their investment."
Australia as take off point
Australia continues to be Fiji's primary source of arrivals to Fiji for the 12 month period with visitation rising to 318,185, a 28 % increase over the 248,489 recorded across 2009. This figure accounts for 50.4 % of total arrivals from all over the world.
Mr. Lowres said the Fiji government's ongoing backing of Tourism Fiji and injection of FJD $23.5 million into the tourism sector has certainly played a key role in building a sustainable tourism profile, which is important factor for the future of investors considering purchasing property on Naisoso.
With the Reserve Bank of Fiji already predicting that tourism is poised for a 10 % growth in 2012, surpassing earlier forecasts of 5 %, Naisoso Island's latest supply and demand figures are looking extremely positive for property investors.
Buy-to-let properties potential
"We currently have enormous demand for rentals on the island and have already increased predicted rental yield figures for our homes in 2012. For example, a river front four bedroom property costing AUD$1.8million will rent for AUD$4300 per month. This figure is expected to rise exponentially when we have completed all the amenities on the island," he said.
The Peppers Resorts expansion to Naisoso Island is also going to be a significant boost for Fiji Tourism. Attorney-General and Tourism Minister Aiyaz Sayed-Khaiyum said Naisoso was another major achievement in the tourism sector and the government is keen to welcome direct foreign investments into Fiji.
Peppers Naisoso Island Resort consists of 178 apartments starting from AUS $579,600, spread over one, two and three bedroom sites along with a few penthouses. With stunning views overlooking the beach and ocean, construction will commence shortly, and sales are already underway.
"Once the whole development is completed by 2017, Naisoso is expected to boost the Fijian economy by an overwhelming $400million. Coupled with the Tourism Ministry's ongoing efforts to encourage new markets to visit Fiji, the outlook is bright for Fiji's economy and Aussie property investors," Mr Lowres said.