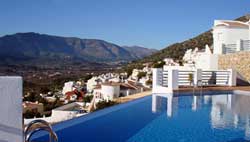 People buying property in Spain can now take advantage of the most favourable exchange rate between sterling and the euro for 19 months.

Managing director of Mallorca Sotheby's International Realty Stephen Dight said this makes the present time a very good one to buy in Mallorca.

He commented: "The eurozone debt crisis is weighing heavily the European Central Bank's and politicians' shoulders, which makes sterling appear to be attractively stable and increase in value."

Mr Dight also noted those investing in the Balearics who do so before May 1st can avoid the deadline for a new property transfer tax being introduced in the islands.

The tax changes apply to more expensive properties, but new-build homes are excluded from the tax and instead subjected to a different levy whose rate has been halved.

Reuters columnist Fiona Maharg-Bravo predicted this week that property prices in Spain are likely to become cheaper in the near future as unemployment rises and the country slips back into recession.