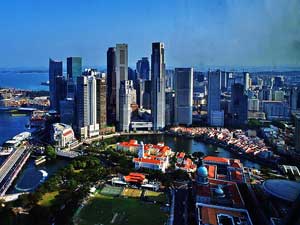 The housing market in Singapore has rebounded even though the Singapore government has not relaxed property curbs. Home prices rose in the third quarter, the first rise in four years, according to the Urban Redevelopment Authority (URA) Index in Singapore.
Experts are predicting further recovery next year.
Prior to the increase, Singapore home prices had been falling for 15 quarters in a row, the longest period of decline since the URA Index began publication, in 1975.
The private residential property index increased 0.5% to 137.3 in the third quarter, after easing 0.1% in the second quarter, according to URA. The index peaked in the third quarter of 2013 at 154.6.
Singapore's domestic economy is booming. This is a primary reason for the high affordability levels among middle class households. The government's announcement in March that it would reduce stamp duties is another factor which may have contributed in the recovery.
Transactions in the private residential market are on the rise. A total of 1,241 units were sold in August, more than double the 468 units sold in August 2016.
The government has rolled out a series of measures since 2013 to cool housing market. The government increased the additional buyer's stamp duty (ABSD) on private and public housing for foreign real estate investors, from 10% to 15% in January, 2013. Foreign buyers pay ABSD, introduced for the first time in December, 2011, in addition to the standard stamp duty rates. These rules are also applicable foreigners on long-term passes (called "permanent residents"), but they pay at a lower rate of 5%. Singapore residents have also been brought under ABSD's ambit, having to pay 7% ABSD when buying their second home.
Debt was capped at 60% of a borrower's income. Real estate taxes were also increased. The government also raised the minimum cash down payment for individuals applying for a second housing loan to 25%, from the previous 10%.