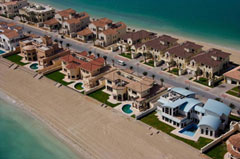 A monthly increase has been recorded in the REIDIN.com residential property price index for Dubai, with real estate values up by 0.5 per cent in August over July.

The figures also revealed that villas are performing much better than apartments in the current market, with such assets seeing their worth increase by 1.34 per cent during the same period.

Meanwhile, apartment sales prices were down overall by 0.3 per cent, although REIDIN noted that flats measuring 50 sq m or less bucked the trend with a boost to values of a nominal 1.38 per cent.

According to the firm's data, real estate has experienced gradual monthly price rises since February of this year, with the greatest increase in this time coming in June, when values gained 0.87 per cent.

Earlier this week, the Dubai Land Department signed an agreement with Wasl Asset Management Group to try and kick-start stalled building projects.

The pair aim to offer investors the opportunity to buy or lease properties in partially completed developments, with the aim of using this finance to complete such schemes.