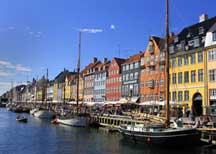 Denmark's property market could be facing another correction, after a housing boom that went bust at the height of the global financial crisis failed to bring down house prices low enough to attract buyers.
Jes Asmussen, chief economist at Svenska Handelsbanken AB, estimates that the Danish property market may be overvalued by as much as 25% and is at risk of slower growth and decreased credibility in the long term.
From their 2007 peak, house prices dropped 16% in Q1 2009, and Asmussen expects house prices to drop 5% this year and 2% in 2012.
Denmark is currently the worst-performing Scandinavian economy. Jyske Bank A/S senior economist Niels Roenholt believes that the country's economic improvement hinges on the housing market: "If we want to see high growth in the economy, we have to see a turn-around in the housing market."
The government, led by newly elected Social Democrat Helle Thorning-Schmidt, has proposed the suspension of some property taxes to help the housing market get back on its feet.
Source: Bloomberg