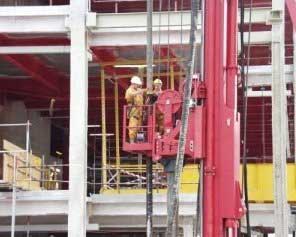 A landmark in Croydon could soon be the focus of a large scale residential development. The CBRE has submitted an application for the conversion, extension and partial demolition of St George's House, Park Lane Croydon, on behalf of Legal & General.
This is the conclusion of a period of "extensive engagement" with Croydon Council and the local community following the decision by Nestle to relocate from the property.
Under the proposals, the existing office block will be transformed into 288 residential units, with resident amenity space at roof level. Community and retail provisions will also be made at ground level, helping to enhance the local area.
"The proposed scheme represents a really exciting opportunity to make a significant contribution towards the achievement of the Council's spatial ambitions for central Croydon, including housing growth," Liz Mason, planning director at CBRE says.
It seems the borough will be the centre of much change in the coming years, with details of a long-awaited regeneration project revealed this week (January 11th).
Stanhope/Schroders released their plans to turn the Rushkin Square site in East Croydon into a residential and office development, the Croydon Advertiser reported.
The pre-application scheme was presented to the council's strategic planning committee yesterday (January 10th) and if approved will deliver 161 homes.
Stanhope/Schroders already has outline planning permission for the overall development, which will hold 550 homes and one million square foot of offices, but is now awaiting approval on a 22-storey tower and a nine-storey adjacent plinth development, according to the newspaper.
Twenty-six one-bedroom, two person flats, 55 two-bedroom, three person flats and 66 two-bedroom, four-person flats will be contained in the building, including a further 14 larger two-bedroom flats for four people.
Of these, 34 units will fall into the 'affordable' category, ensuring the area has an influx of much needed homes.
As part of the scheme, the area will be landscaped into private communal space at ground level, which will include a children's play area. The Croydon Advertiser also revealed a roof garden will be created on top of the plinth.