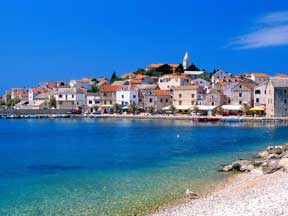 Croatia has good real estate investment opportunities because of a number of factors that include favourable laws for foreign ownership and availability of land.
Croatia has interested buyers and investors alike because of the attractive construction costs.
Part of the so-called last frontiers of the European coastal resort is in Croatia and has not yet been fully occupied and utilised. There are available pieces of property that have superb seafront locations along the Adriatic Sea.
Moreover, Croatian accession to the European Union's by July 2013 had and will open new doors of opportunities for the country including an international agreement on investment protection.
Since 2009 the acquisition of real estate by foreign nationals in Croatia became possible. For all EU citizens, without obstacles. The whole process of real estate acquisition has been significantly simplified and property transfers are comparable with the procedures in Germany, Austria and other European countries.
This also applies to countries with whom Croatia has Legal Reciprocity Agreements, they include :
Argentina, Australia ( conditional ), Belarus ( conditional ), Republic of Chile ( conditional ), Japan, Canada ( reciprocity exists for Ontario and British Columbia ), Malaysia ( conditional ), Kingdom of Norway ( conditional ), New Zealand ( conditional ), Republic of Paraguay, USA ( from state to state ).
For these countries a request for approval of an agreement should be submitted to the Ministry of Justice with the following documents:
-A certified sales contract
-Proof that a citizen of a country with which the Republic of Croatia has a legal reciprocity agreement, a certified copy of the passport or identity card
-Unique identification number for physical, legal entities ( OIB )
-The certificate of property use
-Proof of ownership of the seller
-Upon approval of the Ministry of Justice, a sales contract is submitted to the competent court for property registration
-Real estate tax in this case, 5%
For other countries, with whom Croatia does not have legal reciprocity agreements( such as Russia, China, UAE ), nationals of these countries have to put up companies registered in Croatia, that can acquire the property on their behalf.
Procedure:
- Establish a company in Croatia with the Public Notary
- Croatian company purchases real estate which is owned by foreigners from countries with whom Croatia has reciprocal jurisdiction
- The sales contract between the company and vendor is certified by a notary public
- Sales tax is 5%
- The sales contract should be submitted to the competent court for property registration