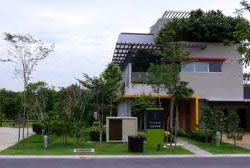 Government agency Malaysia Property Inc (MPI) has been promoting the nation as a top destination for real estate investment site.
MPI chief executive officer Kumar Tharmalingam explained this is the first of several such exhibitions the agency will sponsor to promote the viability of Malaysia's property markets.

"Malaysia was given prominent feature as a real estate investment destination, with an opportunity to profile participating Malaysian companies and their track record in the region," he stated in an interview on state-run Bernama.

The aim is to attract more foreign investments in the Malaysian property sector, Mr Tharmalingam added.

In the latest Knight Frank Global House Price Index, the country was ranked 11th, recording an annual increase of 6.6% in the value of residential real estate during the third quarter of this year.