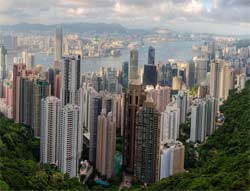 Developers in Hong Kong are offering home loans up to 120% of a property's value in order to create demand in the falling Hong Kong real estate market. These mortgages are appealing buyers, who don't quality for conventional mortgages.
A sudden increase in these types of mortgages has drawn the attention of the city's de factor central bank. Hong Kong Monetary Authority has asked banks to exercise greater caution when financing developers.
"Developers providing mortgages to home buyers will indirectly increase banks' potential credit risks," Hong Kong Monetary Authority Deputy Chief Executive Arthur Yuen wrote in an article posted recently on its website. "We have been in communication with banks to study whether we will need appropriate measures to strengthen risk management over banks financing developers that provide high mortgage lending."
Sun Hung Kai Properties Ltd., Hong Kong's largest developer, hogged headlines recently when it offered home buyers, who own another property to pledge as security, a mortgage of up to 120% at one of its projects.
Sun Hung Kai Properties Ltd is not the only developer offering such a hefty mortgage. many developers are offering home loans of up to 95 per cent of a property's value, that too without the need for proof of income.
The trend is catching up so fast that the share of developer loans was 22% in the total mortgage primary market in February.
Putting gullible buyers to the risk of defaulting on their loans, these developers started these offers after Hong Kong reported a correction of 13% in property prices since they peaked in September last year.
Hong Kong government has imposed several restrictions on buyers and sellers in order to cool the property market. Besides, banks have toughened underwriting rules. As a result, property prices are on a decline in this one of the world's most expensive real estate markets.
The Hong Kong Monetary Authority recently capped loans at 60% of the value of a property costing less than HK$7 million ($900,000), down from 70%. Nonbanks, which charge interest rates eight times higher than traditional lenders and offer 90% financing, are seizing the opportunity created by mortgage rules.
Buyers who don't have sufficient funds to make such a hefty down payment or fail to meet the banks' lending standards are falling into the trap of developers who are offering bigger home loans through their own financial subsidiaries without a mortgage stress test.