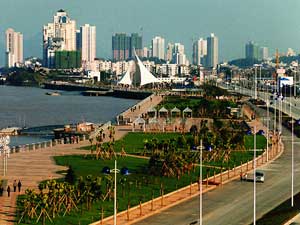 Following falls in housing prices, several mainland Chinese cities are set to relax restrictions imposed on home purchases by provincial governments four years ago. The restrictions are being relaxed to ensure stability of real estate markets and the economy, according to reports.
Since April 2010, China has imposed a slew of measures to cool property prices, amid fears of a property bubble. The measures have included higher down payments, limits on the number of houses that people can buy, the introduction of a property tax in some cities, and the construction of low-income housing. Over 40 cities in China imposed these restrictions to various extents.
Many cities have reported home price declines over the past two years after restrictions yielded results, raising fears of a GDP growth slowdown.
To ensure that the restrictions do not negatively affect them, some cities are now relaxing.
Wenzhou in eastern China's Zhejiang province, Zhejiang's capital Hangzhou, and Changsha in central China's Hunan province are among the cities planning to relax the curbs. These cities have sought central government permission to relax, according to reports in the local media. However, curbs meant to prevent speculation will not be relaxed.
Shanghai last year told banks to stop issuing loans for third home purchases. Beijing announced that single residents would only be allowed to purchase one home. In some cities, people are not allowed to take loans worth more than 30% of the dwelling price.
China's home price rises slowed in January and February, the first slowdown in 14 months. Average new home prices in China's 70 major cities rose 9.6% year-on-year to January 2014, down from the previous month's 9.9% rise. Prices in Beijing rose 14.7% year-on-year to January, compared with a 16% increase in December, according to data released by the National Bureau of Statistics.
Mainland property stocks surged recently, amid the reports of relaxations.