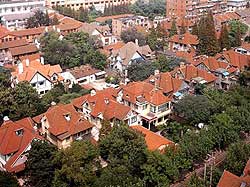 To tame skyrocketing property prices, some Chinese cities have increased restrictions on foreign, as well as domestic, residential property buyers.
Earlier, non-local residents were allowed to buy a residential property in Shanghai if they had lived in the city for at least two years over a three-year period, but now their income tax and social security documents must show that they have resided in the city for more than five consecutive years.
In Shenzhen, a non-local buyer must now reside for three consecutive years to buy a residential property. Earlier the residency requirement was one year only.
Shanghai posted an increase of 21% in property prices in March, while the prices went up by 57% in Shenzhen on an annual basis, according to the latest data released by China's National Bureau of Statistics.
Local residents are also set to feel the pinch. Shenzhen city authorities have raised the minimum down payment requirement for first-time and second-time home buyers to 40% from previous 30%. Shanghai's authorities have increased the minimum down payment amount to 50% for 'normal homes', and 70% for 'non-normal homes', from 40% for both types earlier. Homes are classified as "non-normal" based on size, location and market price. For example, homes not bigger than 140 square metres and priced under 4.5 million yuan (US$696,594) situated in the Inner Ring Road are categorized as normal.