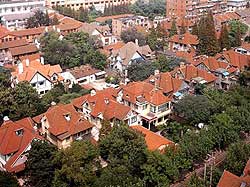 China's tight credit environment is strongly felt in property markets in Beijing and Shanghai. Property sales volumes were down 23% in Beijing and slipped 80% in Shanghai compared to same holiday period in 2010, according to a recent report by Barclays Capital.
Barclays Capital predicts house prices will fall by as much as 30% in the current downward cycle.
Various marketing strategies are now being used by real estate developers in some Chinese provinces. A developer in Wenzhuo province dangles off a new BMW for a small deposit for the first 150 buyers in the so-called Central Mansions, a cluster of towers with 868 apartments in Wenzhou, according to Global Edge.com.
"The BMW deal is a sign of the desperation felt by developers in China's once-booming property market, which has been pounded by government measures aimed at heading off a bubble," the report said.
Beijing's property prices
The average transaction price of new homes and existing homes in Beijing during the first 10 months declined 5.1% from 2010, reports Beijing Real Estate Association.
The average transaction price of new commercial residential homes in Beijing in October fell 8.5% from September to RMB 20,670 ($3,253) per square meter, while that of existing homes fell for the fourth consecutive month, with prices down 2.5% to RMB 17,100 per square meter.
During the first 10 months, a total of 58,000 units of new residential properties were transacted, and the average transaction price was RMB 14,083 per square meter, down 5.1% from 2010.
First-time home buyers accounted for about 90% of the total number of homes purchased for the eighth month in a row.
According to Cheng Zhi, deputy secretary general of the Beijing Real Estate Association, an increasing number of developments in Beijing are being offered at discounted prices.
Of the 182 developments launched in Beijing in October, 15 developments offered home buyers discounts, an addition of 6 from September.
The discounted developments were mainly located in the Daxing, Tongzhou and Fangshan districts.
Source: CapitalVue