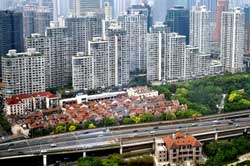 China considers expanding the country's property taxes in other cities after a trial run in Shanghai and Chongqing.
A report published on state-owned China Securities Journal said the Fiscal Science Research Centre of the Ministry of Finance is now undertaking a review which new cities could be levied with property taxes.
Mr. Jia Kang, director of the Fiscal Science Research Centre of the Ministry of Finance, however said property taxes will definitely not cover the entire country.
"The conditions are not yet ripe for applying property taxes to the entire country," Mr. Jia said.
He explained that property tax should always be levied on a case-by-case basis since situations differ from one city to another.
A review of property taxes imposed on the cities of Shanghai and Chongqing is now undertaken by government ministry of finance. It is part of the country's several counter measures to rein in the real estate prices.
Mr. Jia refuted some observers who said the property tax trials in Shanghai and Chongqing seem to be ineffective in bringing down home prices or in contributing to local tax revenues.
Data from the National Bureau of Statistics of China showed that the property price decline in Shanghai was only at 0.39% y-o-y to October 2011.
He explained that the introduction of property taxes was intended to complement existing mechanisms and would take longer to impact on existing property market prices.

"The transaction volume of high-end homes in Shanghai and Chongqing has both declined notably over the past few months and their prices have kept stable," he said.
Early this year, Shanghai has imposed a residential property tax of either 0.6% or 0.4%, on properties newly acquired by local residents, who have one or more homes. The tax also applies to newly purchased properties by foreigners.
In Chongqing, high-end properties acquired are slapped with taxes ranging between 0.5% to 1.2%.
Source: Shanghai Daily News