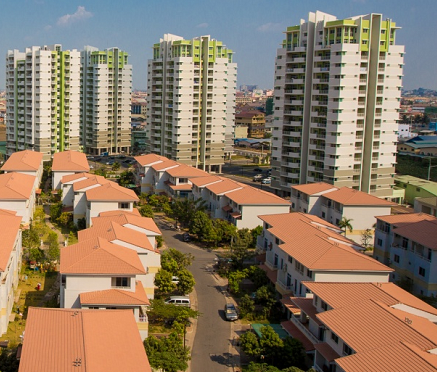 Trend: Nominal house prices fell by 2.7% y-o-y in Q1 2017
The average price of high-end condominium units in Cambodia dropped 2.7% y-o-y in Q1 2017. In a quarterly basis, high-end condo prices fell slightly by 0.7% in Q1 2017 from the previous quarter.
Analysis: House prices to fall by half this year, amidst oversupply
Phnom Penh's apartment prices are expected to plunge by double-digit figures this year, mainly due to the oversupply of apartments in the city, according to local real estate experts. There were 9,298 condominium units launched in 2015 and 8,236 units in 2016. Overall, there were about 2,636 construction projects ($8.5 billion) in 2016, up from 2,305 projects ($3.5 billion) in 2015, according to CBRE Cambodia. Cambodia's economy is expected to grow by 6.9% this year and by another 6.8% in 2018, slightly down from its average annual growth rate of 7.2% in the past six years, according to the IMF.
Rents, rental yields: yields in Phnom Penh are moderately good, at around 5.33%
Phnom Penh apartment costs are low, at around $2,913 per sq. m.
Vietnam: city centre apartment, buying price, monthly rent (120 sq.m.)
Buying price
Rent per month
Yield
Phnom Penh
$349,560
$1,553
5.33%
Recent news
Opposition leader Kem Sokha was charged with treason just this month, amidst allegations of conspiring with a foreign power to overthrow the ruling government. The charges mean the impending dissolution of the main opposition party and the almost sure victory of the ruling Cambodian People's Party (CPP) in next year's general elections. The arrest of Sokha is the latest in the rolling back of democratic processes in the country.