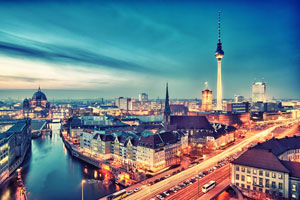 Residential prices in some German cities may be overvalued by 20%, but the authorities will not intervene, says Deutsche Bundesbank.
"The expansion in housing supply is still not sufficient to meet the additional demand for housing, especially the need for new apartments. The incentives to invest must therefore remain consistent with market demand," said the Bundesbank in its October report. Besides "there are no signs of substantial exaggerations in the housing market as a whole," added the Bundesbank.
The exaggerated rise in house prices is confined to Germany's seven biggest cities, Berlin, Munich, Hamburg, Cologne, Frankfurt, Stuttgart and Düsseldorf, where on average prices of apartments have risen more than 25% since 2010.
However the report says there are "clear signs of a dispersion [of price rises] from cities to their surrounding areas." It worries that "inflated expectations or speculation motives are fuelling a regional dispersion of price impulses."
Germany has long been known as a nation of house renters. More than half the population do not own their own homes. But this now seems to be changing. Today, many private individuals seek long-term security by converting assets into real estate in case the euro goes bust. According to the central bank, "The belief that the value of one's assets can be best secured through property ownership was certainly an argument for many households to consider investing in property." Low interest rates for mortgage loans, and low yields in stocks and bonds are factors too.
Both Germans and foreign investors see Germany as safe. "After the real estate bubbles in the US and several European house markets burst, the German property market, which had been quiet for many years, became more attractive to international investors," the report said.
Moreover, despite the increase in prices over the past few years, residential property in German cities remains cheaper than in other world-class cities in Europe like London, Rome or Paris.
Finally, rental yields are high and still rising, and as the report assured, "the Bundesbank is opposed to restricting the amount by which rents can be increased."