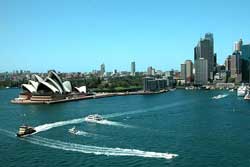 An increasing numbers of Australians are moving to suburbs on the outskirts of expensive cities such as Melbourne and Sydney, as cheaper land in these fringe areas allows homes on bigger lots - contributing to a construction boom.
The construction industry was going through a slowdown recently, squeezing the housing market and pricing out middle class families, but the growing demand for housing in cheaper suburbs is now creating a building boom.
September witnessed the highest number of house approvals in 18-months. Permits were issued for construction of 9,929 new homes. Meanwhile median residential lot land values have risen to a record high of A$470,000 (US$354,098) in October. That's the median lot value.
Experts says that the construction boom will strengthen the economy and stem worries about a housing bubble burst.
Australians traditionally prefer homes on large lots, but skyrocketing property prices have left young home buyers with limited choices. Homes are on average getting smaller, in part because of booming numbers of apartments in cities.
Research commissioned by CommSec and conducted by the Australian Bureau of Statistics, showed that the average new house is 189.8 square metres, down 2.7% from last year and the smallest since 1997. Apartments have shrunk by an average of 10 square metres over the past 10 years.