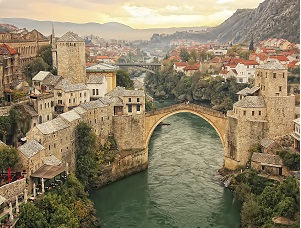 Bosnian authorities are planning to expel more than 300 foreign nationals amid suspicions that they evaded taxes when buying Bosnian investment properties. Most of the properties concerned are owned by Arab investors.
Over the past three months Bosnian officials raided nearly 750 residential complexes, investment firms and tourist resorts owned by citizens from the Gulf, Libya, Russia and Ukraine. The authorities appear stunned at the extent of violations of the country's investment and residency rules. Some owners were found to be living illegally in the country. Others were not even registered as having arrived in the country at all, some had violated their visa requirements and others misused their work permits.
About 500 firms, owning more than 600 residential and business premises between them, were found to be registered at false addresses, and to have no staff.
Government officials say that they have identified 300 foreign individuals as having violated investment and residency laws, and intend to take action to expel them from the country.
Bosnia has been a hot destination for Arab investors for the past few years who have built residential complexes and tourist resorts to take advantage of low prices and a favorable investment climate.