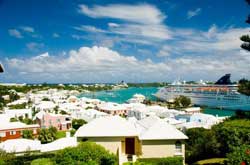 Government authorities of Bermuda are considering easing the rules on foreigners wanting to acquire property in this British overseas territory.
With one of the highest property costs slapped on non-residents, Bermuda is now bent on reviewing laws hinged on
The British Overseas Territory's National Security Minister Wayne Perinchief told delegates at the Real Estate Division of the Bermuda Chamber of Commerce in a recent convention that the government is seriously considering changes to existing property laws that have scuttled interest from foreign buyers.
"I support an urgent review of the ARV (Annual Rental Value) bands with a view to permitting the sale of properties by Bermudans to non-Bermudans provided they fall within that highest ARV band," said Mr. Perinchief at the conference attended by the country's real estate firms and brokers.
Global Property Guide Research cites that part of the challenges faced by foreign buyers in Bermuda is in securing a licence for a non-Bermudan spouse in order to purchase a property.
"I have recommended to Cabinet that the requirement for a licence in these circumstances be removed and that this legal barrier denying home ownership to non-Bermudan members of Bermudian families be eliminated," Mr Perinchief said.
This is one of the key policy changes for review, which according to the new president of the real estate division of the Chamber of Commerce, Ms Dale Young this is a welcome development that could further promote the growth of the property sector.
Ms Young said this move by the government if it would really take effect will increase the development of properties as there would be more people to sell to. Buyers of property would also be encouraged if the government would be able to reduce the fees slapped on PRC holders, which currently is that they have to 18% of the value of the property.
She cited that the government was able to lower the fees to about 6% for condominiums built at Tucker's Point, and it would matter to buyers if the PRC rate will be reduced and best to abolish it altogether.
Source: The Royal Gazette Online