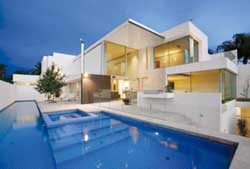 Property loan borrowers in Australia have received an early Christmas gift from the Reserve Bank—lowered rates by 25 basis points that would redound to trimmed monthly mortgage repayments.
If the rate cut of 25 basis points will be fully passed on by commercial banks, borrowers can save $46 a month from a typical mortgage repayment on a typical 25-year $300,000 loan.
The reduction of Australia's benchmark rates, according to Mortgage Choice spokeswoman Kristy Sheppard, will likely push conservative consumers to spend more.
Australia's four big banks the National Australia Bank (NAB), the Australia and New Zealand Banking Group Ltd (ANZ), Westpac Banking Ltd, Bank of Queensland, and the Commonwealth Bank (CBA) have all slashed down interest rates after the Reserve Bank of Australia's announcement on Nov.1.
Australia's biggest home lender, CBA and the Bank of Queensland, had cut its SVR (standard variable rate loan) to 7.61 percent and 7.56 percent, respectively. Westpac lowered its SVR to 7.61 per cent from Nov. 14.
NAB, however, cut its variable home loan rate by 20 basis points, citing the higher banking transaction costs as a factor in its rate reduction.
"We are committed to offering the most competitive standard variable interest rate possible and these decisions are never taken lightly," said NAB personal banking group executive Lisa Gray in an emailed statement.
"However, the current instability in Europe presents us with additional funding pressures, as costs of funds continue to rise," Gray explained.
ANZ Bank has imposed a new variable mortgage rate placed at 7.55 percent per year.
"We're acutely aware that many of our customers are doing it tough and despite higher funding costs we're pleased to be able to pass on the reduction in the cash rate in full," said ANZ's Australian chief executive officer Philip Chronican in an emailed statement.