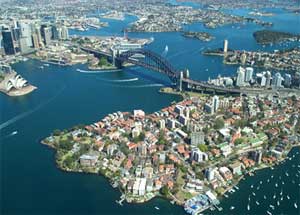 While commending Australia for doing well compared with other advanced countries, the IMF in its November 20 report said, "attention should be paid to the risk....that a prolonged period of rapid price growth could give rise to expectations-driven, self-reinforcing demand dynamics and price overshooting."
Home values have continued to rise in October largely because of the surging demand in Australia's biggest cities. House prices in Sydney have risen by 11.4% over the year to date, in Melbourne by 6.8%, in Perth by 8.6% and in Brisbane by 4.1% according to data from the Australian Bureau of Statistics (ABS). Mortgage rates on the other hand have remained at a four-year low, with an average standard home loan rate of 5.95%.
With high home prices and uniformly low interest rates, banks have sought to attract customers, especially first-home buyers, by increasingly offering riskier low downpayment mortgage loans. About 20% of all new loans have loan-to-valuation ratios (LVR) of 80% to 90%, and 40% of new approvals have LVRs of 60% to 80%, according to the Australian Prudential Regulatory Authority (APRA).
The Reserve Bank of Australia (RBA) has already publicly warned banks and other lending institutions to be careful with such low-deposit loans which could expose them to losses in the event of default. However, unlike its New Zealand counterpart, RBA has so far refrained from setting macro-prudential tightening measures, opting instead to deal case-to-case with specific situations as they arise.
Speaking through AM, ABC Radio's morning current affairs program, the IMF's representative for the Asia-Pacific, Brian Aitkin, agrees there is no need for Australia to introduce the kinds of regulations being introduced in New Zealand. He said, "Australia already has the ability to do that on a case-by-case basis... so to the extent that this is more targeted and they have the ability to do that, then they might not need an entire institutional architecture to engage in what you might consider to be macro-prudential measures."
While noting that RBA can adequately handle any potetial market bubble, Aitkins reiterated that "[but] whenever you get rapid [house] price increases, you always want to be on the lookout for a situation where if it were sustained over an extended period of time, and if it were accompanied by a rapid overall increase in credit growth and turnover, then there might be building a self-reinforcing speculative dynamic that could lead prices overshoot on the upside, and then it could unwind."