House prices soar outside the Austrian capital, but Vienna slows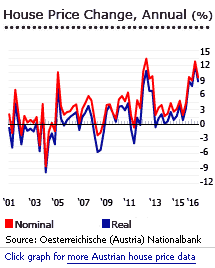 Austrian housing prices continue to rise, as economic growth accelerates further. In Q3 2016, the residential property price index in Austria was up by 7.2% (6.43% in real terms) y-o-y, based on figures from the Oesterreichische Nationalbank (OeNB). In a quarterly basis, property prices fell by 0.9% (-0.8% in real terms) in Q3 2016.
House prices in Vienna, Austria's capital, rose by 2.5% (1.75% in real terms) during the year to Q3 2016. During the latest quarter, Vienna's residential property price index fell by 0.4% (-0.3% in real terms) from the previous quarter, an improvement from a 2.4% q-o-q decline (-3.2% in real terms) in Q2 2016.
While house price increase were subdued in the capital, the residential property price index in the rest of Austria rose sharply, by 9.6% (8.8% in real terms) y-o-y in Q3 2016. However, during the latest quarter it fell by 1.1% (-1% in real terms).
Statistics Austria confirms this general picture, reporting that the overall house price index rose by 5.2% (4.5% in real terms) during the year to Q3 2016, following price rises of 9% y-o-y in Q2 and 13.4% y-o-y in Q1 2016.
By property type:
For new dwellings, the average price rose by almost 4% (3.2% in real terms) during the year to Q3 2016, and increased by 2.9% (3% in real terms) from the previous quarter, according to Statistics Austria.
For existing dwellings, the average price was up by 5.4% (4.7% in real terms) y-o-y in Q3 2016 and rose by 0.1% (0.2% in real terms) from the previous quarter.
For existing houses, the average price surged by 7.1% (6.3% in real terms) in Q3 2016 from a year earlier and rose by 1.5% (1.6% in real terms) from the previous quarter.
 For existing flats, the average price rose by 4.7% (3.9% in real terms) y-o-y in Q3 2016, but slightly fell by 0.5% (-0.4% in real terms) from the previous quarter.
More property transactions; more demand from immigrants
In the first half of 2016, the number of residential property transactions in Austria increased by 10.1% y-o-y to 59,452 transactions, according to land registry data extracted by IMMO. The value of property transactions rose by 21.3% in H1 2016 from a year earlier.
Part of the rise was due to the tax reform of January 2016, according to the Oesterreichische Nationalbank (OeNB). "The changes introduced by the tax reform on free-of-charge residential property transfers between family members sparked a sharp rise in such transactions. However, the bulk of these transactions were not recorded in the land register until the first quarter of 2016."
Under the tax reform there's also a change in how the real estate transfer tax is calculated. The authorities now use the market value of the property as basis, rather than a "standard tax value". From a standard tax rate of 2% for transfers of land plots and real estate between relatives, the rates for intra-family transfers without compensation now varies, depending on the property's market value:
Property market values between EUR 0 to EUR 250,000 ― 0.5%
Property market values between EUR 250,000 to EUR 400,000 ― 2%
Property market values over EUR 400,000 ― 3.5%
There's also been higher demand for new apartments, especially from foreign homebuyers. In the high-end residential market, Austrians represent about 60% of property buyers while the remaining 40% are foreigners, mainly from Eastern European countries like Russia and Ukraine, said Peter Marschall of Marschall Real Estate in Vienna. Wealthy Eastern Europeans are attracted to Austria due to cultural similarities. In addition, Eastern Europeans see Vienna as a very safe environment and a safe haven for their investments.
"Super prime" markets such as Vienna, on the other hand, has been attracting a more diverse set of foreign buyers. Some of these come from Switzerland, the United States, the Middle East, and Hong Kong, according to Otto Immobilien Gruppe's head of residential marketing, Richard Buxbaum.
According to Bank Austria, the growing number of 25- to 44-year-olds in Austria will raise the demand for housing in the next few years. Over the next ten years, this demographic is expected to increase by an average of 0.5% annually.
Austria's population in Q1 2016 rose by 1% y-o-y and by 2% y-o-y in Vienna. The sharp population increase was largely due to immigration," which more than doubled in 2014 and 2015 compared with the ten previous years," according to Bank Austria.
Differences in local house prices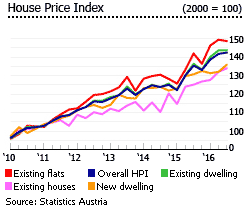 Vienna is ranked as the world's best city to live in, in terms of quality of life, according to the 18th Mercer Quality of Life study. The study examined social and economic conditions, health, education, housing and the environment.
"Vienna has ranked top in the last seven published rankings," said Mercer. "It scores highly in a number of categories; it provides a safe and stable environment to live in, a high level of public utilities and transport facilities, and good recreational facilities," Mercer added. It is a no brainer that these qualities have attracted a lot of foreign investors into purchasing homes.
The First District, also called "Innere Stadt", which means "Inner City", is a UNESCO heritage site blessed with baroque architecture as well as the Imperial Palace. The First District is the center of luxury and secondary home market in Vienna.
Luxury properties in the prime district could cost from EUR 6,000 (US$ 6,390) to EUR 16,000 (US$ 17,040) per sq. m., according to Knight Frank Austria's Head Alex Koch de Gooreynd. Property prices could even reach up to EUR 30,000 (US$ 31,950) in exceptional cases. These prices are not exclusive to the first district, but are also seen in the surrounding areas such as the 2nd up to the 9th districts. Real estate prices of condos or villas in the 19th, 18th, and 13th districts range from EUR 10,000 (US$ 10,650) to EUR 15,000 (US$ 15,975) per sq. m.
In Graz, apartments cost, on average, EUR 3,500 (US$ 3,688) to EUR 4,300 (US$ 4,531) per sq. m. On the other hand, Salzburg apartments cost around EUR 4,600 (US$ 4,847) to EUR 5,500 (US$ 5,795) per sq. m., according to the Immopreise.at.
Varying price levels between Vienna and the rest of Austria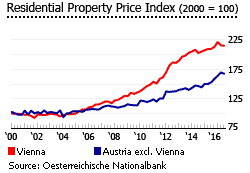 House prices in Vienna have been rising consistently since Q3 2004. During the housing boom (2003-2013), house prices in the capital soared by 99.6% (61.7% in real terms). On the other hand, property price changes in the rest of Austria have risen much less, rising by just 37.1% (11.1% in real terms) from 2003 to 2013.
Prices in Vienna rose 4.2% (2.6% in real terms) in 2014, while prices in the rest of Austria were up by 3% (1.4% in real terms). In 2015 this trend was reversed. Vienna's house prices rose by only 2.2% (1.3% in real terms), while prices in the rest of Austria rose by 5.2% (4.2% in real terms).
Why have Vienna's house prices have generally risen faster than the rest of Austria during the period? It is puzzling, but it may be partly because it is difficult to build in the centre of Vienna, so new supply is very limited. It may also be because in an era of low interest rates, people are putting money into rental properties, and Vienna offers relatively easy renting (though returns are quite moderate). Another possible factor is that the majority (about 70%) of residential real estate in Vienna is owned by institutional investors, i.e., banks and companies.
Increasing housing supply
The number of new dwellings built in Austria was around 66,000 units yearly in the 1990s, but as a result of a boom-and-bust cycle, the number fell to about 40,000 units a year during 2001-2004.  around 50,100 dwellings were completed in 2015, according to Statistics Austria.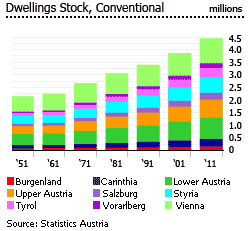 The total housing stock in Austria reached 4,594,000 dwellings by end of 2015. 51% were in multi-storey buildings, while 46% were in one- and two-family houses.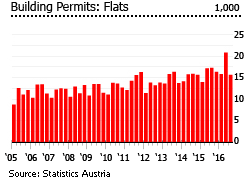 Vienna's local government plans a 30% boost in housing construction, starting 2017, implying that about 13,000 new homes will be built in Vienna every year, up from the current 10,000.
Better rental yields outside Vienna
Austria's rental market is segmented via tenure, regulation and market forces into a hierarchy of low rents for municipal, other social tenants and long-term incumbents in the private sector, but higher free market rents for recent entrants into the private rental sector (though even the "free" sector is substantially controlled, with maximum rents clearly specified by the authorities). Global Property Guide's figures cover the "free" market sector only.
Rental yields in Vienna's Innere Stadt (Old Town) are poor as compared to the other upscale areas in Vienna, with yields ranging from only 1.38% for 250-sq. m. apartments to 2.83% for 55 sq. m. apartments, according to Global Property Guide research of August 2015. In Vienna's other luxurious areas, rental yields range from 2.83% to 4.22%, with smaller apartments earning the highest rental returns, and bigger apartments earning the lowest rental returns.
Better yields can be found outside Vienna. Gross rental yields are higher in Graz, ranging from 3.74% to 5.51%. The smallest apartments return the highest rental yields. In Salzburg, gross rental yields ranged from 3.53% to 5.31% in August 2015.
An oversupply of rental units during the 1990s led to a fall in rents. The rent decline stopped in 2000 and rents even rose briefly until 2001, but fell once more in 2002. Moreover, the continued increase in home prices in Austria, especially in Vienna, has resulted to a fall in rental yields.
Residential rents are rising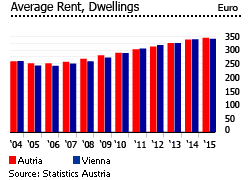 The increase of residential rents in Austria continues. The average residential rent in the country rose by 3.3% to EUR 490.35 (US$ 522.22) per month, during the year to Q3 2016, according to the Oesterreichische Nationalbank (OeNB). In terms of square metres (sq. m.) of living space, residential rents cost at an average of EUR 7.41 (US$ 7.89) per sq. m. per month  in Q3 2016.
Innere Stadt apartments fetch one of the highest rents in Austria, ranging from EUR 18 to EUR 20 per sq. m. per month in August 2015, according to according to Global Property Guide research. These rents have not increased in the past two years. Innere Stadt is Vienna's most luxurious and least populated district, with roughly 17,000 inhabitants. But with a workforce of around 100,000, it is Vienna's largest employment locale.
In the other upscale districts of Vienna, rents range from EUR 14 to EUR 15 per sq. m. per month.
Rents for Salzburg apartments are close to Viennese levels, at around from EUR 14 per sq. m. per month.
Apartments are more affordable in Graz, with rents ranging from EUR 9.50 to EUR 12.50 per sq. m. per month.
Vienna has one of the highest percentages of renter households in the world, with about 75% of homes rented. In Austria as a whole, households own 56.4% of primary residences, while 41.2% are rented, according to a recent Austrian microcensus. Austria's home ownership rate is way below the EU-27's average rate of more than 70%.
The high percentage of rented residential properties is due to the large proportion of subsidized low-rent apartments in the general rental market, according to Martin Schneider of the OeNB. Limited tax incentives for home ownership also contribute to the high proportion of renters.
All-time low interest rates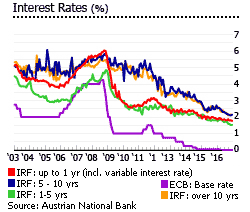 Austria's housing loan interest rates continue to fall, following another European Central Bank key rate cut in early-2016. In December 2016, the average interest rate for new housing loans was 1.86%, down from last year's 2.01% average housing loan rate, and from 2.14% rate in December 2014.
Average interest rates for new loans in December 2016 were:
Interest rate fixation under 1 year: 1.77%, a decline from 1.9% a year earlier, and the lowest in the past two decades.
IRF over 1 and up to 5 years: 1.52%, down from last year's 1.84%, and the lowest since data was first published in January 2003.
IRF over 5 years and up to 10 years: 2.14%, down from 2.7% the previous year.
IRF over 10 years: 2.13%, down from 2.51% a year earlier.
 For outstanding housing loans, interest rates were at their lowest levels since data was first published 13 years ago:
IRF of up to 1 year: 1.91%, down from 2.1% the previous year.
IRF over 1 and up to 5 years: 2.05%, down from 2.23% a year ago.
IRF over 5 years: 1.95%, down from 2.07% a year earlier.
The ECB key rate is also at an all-time low of 0.0%, after the institution took five basis points off the refinancing rate in Match 2016.
Mortgage market is still small, but expansion continues
In terms of size, the Austrian mortgage market has expanded to 37.1% of GDP in 2015, up from 21.2% of GDP in 2001.  Yet Austria is relatively under-mortgaged: the EU's average is 50% of GDP.  As of Q3 2016, total housing loans stood at EUR 127.86 billion (US$ 136.20 billion), up by 6.08% from a year ago, according to the Oesterreichische Nationalbank (OeNB).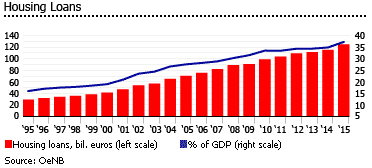 The share of foreign-currency denominated loans is declining, but was almost 20% in 2015.
Positive economic outlook in 2017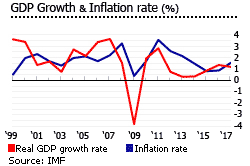 During the year to Q4 2016 Austria's economy grew by 1.8%, its fastest acceleration since Q3 2011. The Austrian economy has stagnated for the past four years, posting real GDP growth rates of 1% in 2015, 0.6% in 2014, 0.1% in 2013, and 0.7% in 2012, according to the Austrian Institute of Economic Research (WIFO).
"Growth in the fourth quarter was once again determined by consumption and investment demand, while exports' contribution to GDP was again negative," said WIFO.
Austria's economic growth is expected to remain positive in the next two years at 1.5% in 2017 and 1.4% in 2018, according to WIFO. The Austrian economy is mainly driven by exports, mostly to its biggest trading partner, Germany. More than 75% of Austria's exports go to Europe, 30% to Germany.
Austria experienced relatively strong economic growth from 2004 to 2007 with an average annual GDP growth of 3%. After contracting by 3.8% in 2009, the economy emerged from recession with growth rates of 1.9% in 2010 and 2.8% in 2011.
Austria's budget deficit was predicted at around 1.4% of GDP in 2016, up from 1% the previous year, according to the European Commission. The deficit is expected to fall to 0.9% in 2018. The country's gross public debt was estimated at 83.6% of GDP in 2016, according to the European Commission, and is projected to drop to 79.3% of GDP in 2018.
Unemployment was 5.7% in December 2016, down from 6% at end-2015, according to Statistics Austria, despite the rise in accepted asylum seekers. Despite this, Austria's jobless rate remains well below the EU average of 8.6% in 2016.
Inflation stood at 2% in January 2017, the highest rate recorded since July 2013, due to higher fuel prices, according to Statistics Austria. Inflation is expected to slow to 1.6% in 2018, according to the European Commission.
Caps in accepting asylum seekers and refugees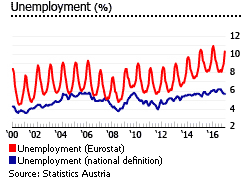 In 2016 Austria's population rose only 0.8%. Most foreign nationals that entered the country in 2016 came from Afghanistan (9,700), Romania (9,200), and Syria (8,300). Vienna still had the highest population growth, increasing by 1.5% or around 27,700 people to a total population of almost 1.87 million.
This is a significant slowdown on the previous year. Vienna took in 43,200 people in 2015 to reach a total population of 1.84 million. Of the 141,718 registered unemployed in the city last year, around 58,000 were foreigners, representing a 17% annual increase in the number of jobless foreigners in the city.
The slower growth of immigrants in the beginning of 2017 was due to the new regulations implemented by the Austrian government in early 2016. In January 2016, the government announced that they would set a maximum number of 37,500 asylum applicants annually in the next four years, down from 90,000 applications they received in 2015. The following month, Austria started putting a cap of 80 asylum seekers a day, that are allowed to enter the country for asylum application, while only up to 3,200 persons are allowed to transit toward other countries.
Aside from having a direct effect on the country's unemployment rate, Statistics Austria also reported that more than half of all asylum seekers in Austria commit crimes. More specifically, from 2004 to 2014, almost every other migrant had committed some kind of criminal offence after coming to the country and seeking asylum. The report revealed that about 80% of the criminals were young men. Moreover, a number of suspected jihadis were detained last year after a series of raids in cities across Austria.
Following the failure of its open borders policy, the Austrian government revealed its plan to deport about 50,000 failed asylum seekers over the next four years. "We are already among the countries with the most expulsions, but we will step up the pace and will increase the upward trend," said Interior Minister Johanna Mikl-Leitner.
In fact in February 2016, Mikl-Leitner announced that the "Balkan route", the main passage used by migrants, commonly from the Middle East, to reach affluent countries to the north, will be closed permanently.
Austrian elections: left-liberal Van der Bellen defeats far-right leader Hofer
On January 26, 2017, Alexander Van der Bellen was sworn into office as Austria's 12th President, replacing Heinz Fischer. An independent candidate supported by the Green Party, Van der Bellen emerged victor after a close battle with right-wing Freedom Party (FPÖ) candidate Norbert Hofer, winning 53.8% of the total votes in the second round, against Hofer's 46.2% share.
The result left European leaders relieved, knowing that a leader with a pro-European stance won. The recent elections were closely watched, coming before the elections that will occur in France, the Netherlands, and Germany this year.
French President Francois Hollande expressed its thanks to Austria for "choosing Europe and openness", while Vice-Chancellor Sigmar Gabriel of Germany's Social Democratic Party stated that the result was "a clear victory for reason against right-wing populism".
"Finally, you know, I will try to be an open-minded, a liberal-minded and first of all a pro-European federal president of the Republic of Austria," said President Van der Bellen in his victory speech.